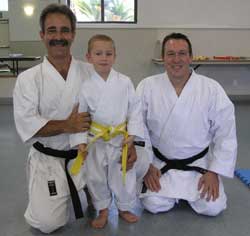 Under the guidance and leadership of world renowned Shotokan Karate 8th Dan Sensei Edmond Otis. Garry Kewish, Shotokan Karate 4th Dan Instructor and a student of  Sensei Otis has opened the Wyndham Vale Dojo, the focus of the dojo is to bring traditional karate skills and strengths to the up and coming young children of today.
There is so much to learn from Shotokan Karate and by combining the traditional, proven karate techniques with todays modern teaching and coaching skills, the outcomes and benefits for todays children is just outstanding and a joy to be part of.
The ability to not only learn and live this incredible martial art, but to be able to have the opportunity to also learn from a global network of like minded and committed instructors, coaches and clubs is inspirational. Our sister club in New Zealand ( Shotokan Karate Hawkes Bay ) is a leading example and model for how traditional Shotokan Karate and modern Shotokan adaptations should be taught today. The invaluable lesson passed on to Wyndham Vale dojo Sensei Garry Kewish will be a huge asset to the attending students.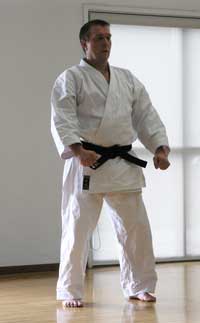 It has been exciting to see these young kids with little to no karate experience come in and soak up their first lessons with such excitement and vigor and to have the parents share stories of the amount of time these very young kids are practicing at home, makes you feel proud to be helping even in a small way with these children's future through martial arts and specifically Shotokan Karate.
We look forward to a time in our growth where we will be able to take a Kaizen Martial Arts Victorian Shotokan Karate Team and then an Australian Shotokan Team to compete overseas with the huge family of AJKA-I clubs that we are part of, and to also host them in this beautiful homeland of ours, Australia.
It will also be fantastic to take our students to upcoming events such as the global "2012 Camp Shotokan" held in California in the US. This is event is something that you have to be part of at least once in your martial arts life, the amount you learn, the friendships you make and the training, coaching and instruction from the very best Shotokan Karate leaders in the world is just breath taking.
We start with humble beginnings but we grow strong in the knowledge of the combined strength that stands behind us, supporting what we are doing not only here in Wyndham Vale, Werribee, Hoppers Crossing, Tarneit or Point Cook but across Melbourne, Victoria and Australia. We want to be the ripple that creates a new wave of Shotokan Karate
We look forward over the next 24 – 36 months to build a strong, proud and technically focused club of champions.