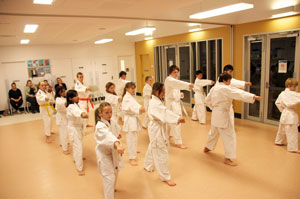 Shotokan Karate Steps it up again in Werribee and Wyndham vale with more students jumping on the waiting lists. As usual for most months May has been a very busy month for our Kaizen Martial Arts Australia family. Our Shotokan Karate Kids Classes have been training diligently in an effort to get another step closer to the goal of their very first grading to be held at the end of June.
Everyone has been putting their best foot forward and punch and block and kick to impress Sensei during the initial assessment period. Our 6-10 martial arts practitioners have improved markedly in their dojo etiquette and it's very pleasing to hear each of them giving it a go counting in Japanese.  In the 11-16 year Shotokan Karate Classes a lot of time has been put into the finer points of the first kata Taikyoku Shodan and now it's really paying off as the movement as a group is becoming more and more precise requiring less correction and is a pleasure to watch.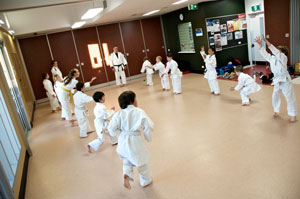 Another area of focus has been hand eye co-ordination and reflexes. Hand eye co-ordination and reflexes are so important in many parts of our daily lives and especially in martial arts. To hone these skills Sensei introduced a couple of new games to the children using bean balls.  We randomly throw high, middle or low for our partner to catch and then return. As the grading notifications will be going out to parents very soon, it's important to remember that we all learn in different ways and at different speeds.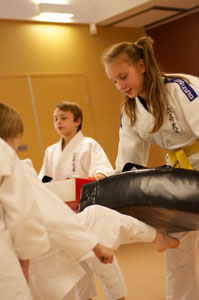 For example for some people their brains learn through listening, others through watching, others through doing and others through a combination of these.  And then some take longer to learn the same technique but learn the terminology faster than their classmates and visa versa, and thats what makes us individuals. When Sensei plans classes all these and many more factors are taken into account and he designs each Shotokan Karate class to engage all of our senses. Everyday we all learn something new and one of life's great lessons is not to compare ourselves with others.
When we accept and understand this lesson all of a sudden a weight is lifted from our shoulders and learning becomes fun again and easier without that unwanted pressure.  There will be plenty of opportunities to grade…  when we (the individual) are ready!  And Sensei will use his extensive experience and training to guide us every step of the way, after all, Sensei was once a beginner too.