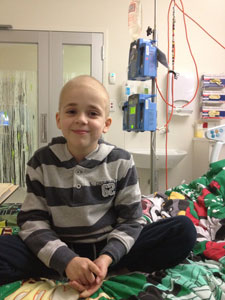 Determination.  Wherever there's a will, there's a way.  One of young students has buckets loads of it and he's up to any challenge that life throws at him.
Currently James is a few weeks into chemotherapy for an aggressive cancer that was only diagnosed in May and so far things are looking positive.
Despite the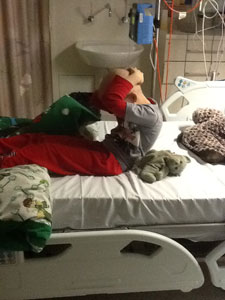 nauseousness, tiredness and the constant needles James still has the willpower and drive to do sit-ups from his hospital bed and has invented a way of practising his Shotokan Karate  front snap kick (Kin-geri) and front pushing kick (Mae-geri) with the aid of his walking frame.
Everyone knows James is on the move when they hear ichi, ni, sun, chi, as he trains his upper and middle punches while mum is pushing his wheel chair along the wards of the Royal Children's Hospital.  Not only does James have such strong determination he also has more than his fair share of charm and an infectious smile which has all the nurses wrapped around his little finger.
James and mum, Vicky, came by the club recently for a short visit, in between rounds of treatment, with lots of news and praise for their doctors, nurses and the facilities at the Royal Children's Hospital – Melbourne.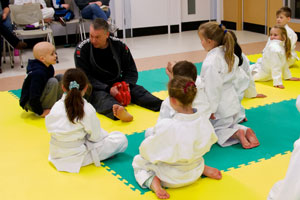 Everyone was so happy to see James again.  Sensei asked James if he would be honorary Sempei for the bow in of the 11-16 age class which he was only to happy to oblige.  He also demonstrated how he was able to overcome the problem of practising his kicking techniques without putting his body weight onto his left leg by using his walking frame.  We all had a little chuckle when James showed off his "big" guns, which have been getting stronger and larger from pushing himself around in his wheel chair.  All of the adults in the room were moved and inspired by James' love of martial arts and his resolution to overcome the obstacles.  On the topic of going bald, well it can't happen fast enough for James.  Yes! thats right, he really does want to be bald, the patchy look is not for him.  Being around James' bright personality was uplifting and really put life into perspective.  Everyone from Kaizen Martial Arts Australia sends their best wishes to James and his family for the upcoming treatments and we all hope and pray for the best possible outcome.