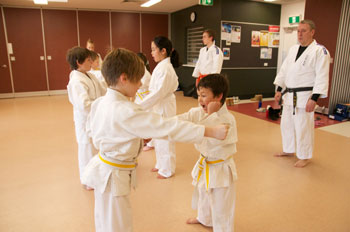 Shotokan Karate continues to grow and expand as Kaizen Martial Arts Australia attracts adults and kids from not only Wyndham Vale but also from Werribee, Hoppers Crossing, Point Cook, Tarneit and surrounding suburbs.  Word of mouth is travelling far and wide with some families commuting from as far a Bacchus Marsh to have their children train with us, which is quite an honor for our club.
The focus is on delivering traditional Shotokan Karate in a safe, friendly and focused environment.  This Tuesdays training across the 6 to 10 year old class and the the 11 to 16 year old class was of a very high standard.  To the point that both classes are ahead of the training curriculum for this time of year which is super impressive.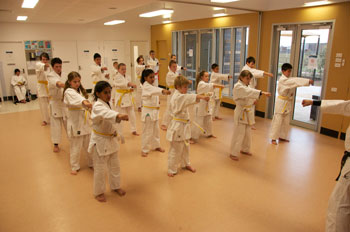 The students have been informed that their is one more grading just a few weeks before we close for the Christmas break and they all want that next belt in their martial arts progression so the level is already stepping up another notch.. very cool!
The focus of the class this Tuesday was on 3 step sparring with drills being performed that increase their level of timing and distance, the attacker in the sparring was countered on the last strike with a reverse punch. This instills into the students the ability to move, defend and attack all within the one drilled sequence.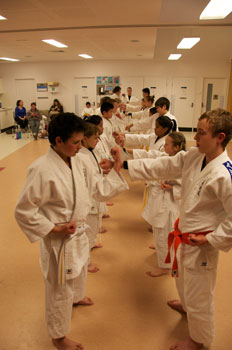 Next we moved into impact work on the pads, the kids love this work and they really get to expel some power and energy on those poor pads.
There was time for some more punching and blocking drills before we moved into Kata practice with the 6 to 10 class putting their effort into Taikyoku Shodan, which is starting to really look polished and technically strong.  Stances have really improved along with the shoulder positions during punches.
The 11 – 16 year old class practices Taikyoku Shodan to their own count and the class is really starting to move as a synchronized unit, the timing is becoming better and better.
We then moved onto their next Kata – Heian Shodan.  This Kata is really taking shape with good solid delivery, the area we are focusing on is the last set of knife hand positions, making sure they are positioned correctly and the entry into each is smooth.   So much improvement and the entire class without a single exception is looking solid in their knowledge of the basic movements.
Looking forward to next weeks Shotokan Karate classes…