The Kaizen Martial Arts Family Gives A Helping Hand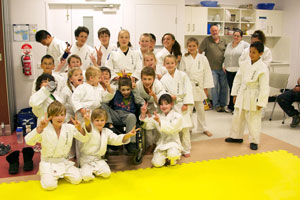 Over the last few weeks the Kaizen Martial Arts Australia club members have experienced some highs and lows and not just in their kodokan judo throwing techniques.  One of our junior members was recently diagnosed with cancer and everyone in the club rallied to support the family by donating an ipad, money and help in other areas such as cooking meals. It has been very heart warming to see the generosity, love and support given so freely to a family in need. We were all so happy and inspired to see James' bright and infectious smile when he popped in to training for a visit the night before his treatment began. James was particularly delighted when the class dropped to the floor for push ups, probably because he didn't have to do them! Mum, Vicki, wanted to personally thank everyone for their unexpected kindness compassion and help "thank-you just doesn't seem to say enough" she said. Vicki and James we all wish you both the very best on this second round of treatment and James we look forward to your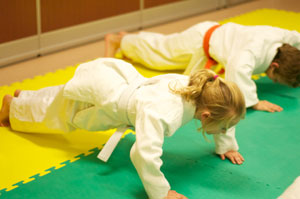 joining us back on the mat real soon buddy.
During May we have done a lot of work to build physical fitness and strength through lots of different exercises and games, of course we had the usual running, sit ups and push ups but we also got an amazing cardio and strength work out during the flow rolling and ne waza – grappling on the ground, which everyone from the youngest to the oldest members in the club just loves.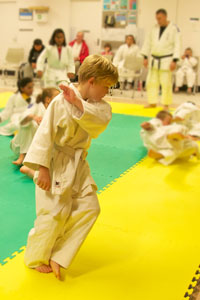 We also revised our left and right break fall techniques from sitting position for beginners to squatting position and then to standing position demonstrating the natural progression of our judo break fall. With all our Kodokan Judo kids and adults now becoming familiar with left and right break falling it was time to introduce forward break falling. Psychologically this can be a pretty unnatural technique when you first begin to learn it. This is first practised from the knees with the main points being to keep strong core mid section, land with forearms forming a triangle also remember to turn your head to one side (or you could hit your nose quite hard on the floor, ouch!).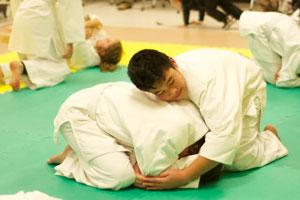 All groups were introduced to the double arm turtle roll over technique and seemed to pick it up very quickly so we then covered another turtle roll over using our hand to wrap behind our opponents neck to roll them.
Our adults 'Fighting Strong Judo and BJJ' class had lots of fun learning a new arm control technique called the two on one cross arm drag. We added to this the cross collar knee out sweep over a couple of weeks in different stages and then put it all together to mutliply the method into several counter attacks for our toolbox. It was great to see everyone starting to recognise and capitalise opportunities, put what they've learnt together and really developing their individual styles and favourite ground 'tools'.