Kids Martial Arts In Wyndham Vale A Huge Success
Kids karate in Wyndham Vale and specifically Shotokan Karate at Kaizen Martial Arts Australia is exploding with another huge kickoff to the week. We started the kids karate class off with a series of warm up exercises and then we moved into a review of the last training session, the kids were really on the ball with no wrong answers to the stances, strikes and blocks questions… maybe I need to up the level of question because these children are really focused.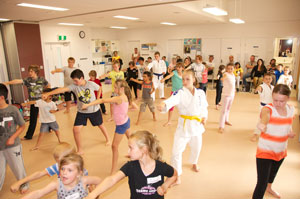 We went through our martial arts striking, changing levels and counting in Japanese, the kiai was so loud that I thought the center manager would have to come down and check we were OK…yeah!!!!!!
We shifted focus and took the kids through a review of upper and lower blocks, then into forward leaning stance and then into their movement forward with both upper blocks and lower blocks, we then showed the kids how these basic movements formed the first Kata that they would learn.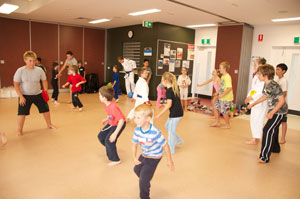 Taikyoku Shodan is the very first Shotokan Karate Kata and the students were very impressed that in 1 month they will be completing this kata with precision to their own count, the initial base movement check tonight showed that we have a great group of young, eager and dedicated students.
Then it was time for some games, kids love this time of the training because they get to let off some noise, run, shout and use up the small balance of energy that runs through their bodies, they will all sleep well tonight that is for sure.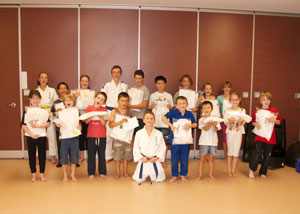 We then had the enrollment of new students to the club and tonight 15 new members joined the club and were presented with their gi's, club badges and the smiles on their faces said it all, it is important to note that we are coming up to the end of our first month in the new dojo and the karate and judo combination has been a truly great success, the real measure is when you ask the students which they like best the karate or the judo and everyone that was asked without exception said they could not choose, they loved doing both.
During the children's class on Thursday we will have another 5 new members that could not be at training tonight, that will bring the number of new members this week to 20 at Kaizen Martial Arts Australia Wyndham Vale Dojo and we sincerely thank them and their parents for making this important decision for their children health and self confidence.
Thursday evening from 8.00pm is our second adult class, we had a good turn out last week and we expect that will grow each and every week as word gets out about the quality of the adults training.
More updates to come after the Thursday kids karate and kids judo classes at the Wyndham Vale martial arts dojo..
LEARN – FOCUS – TRAIN HARD – HAVE FUN