HOW OUR KAIZEN MARTIAL ARTS SELF DEFENCE PROGRAM WILL HELP YOU RAISE A SAFER, HAPPIER, AND HEALTHIER CHILD
…

IN AS LITTLE AS

2 HOURS A WEEK

!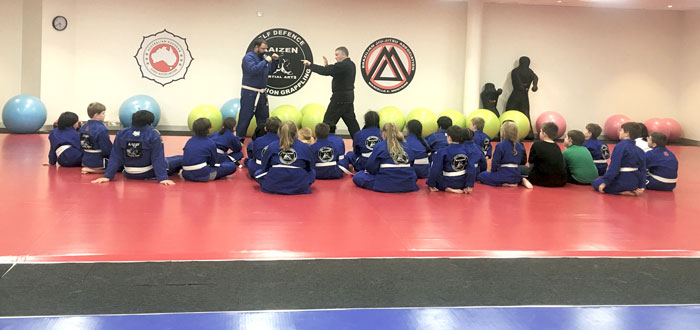 We are delivering the Kaizen Martial Arts Australia "martial arts self defence for kids" program combining Shotokan Karate, Kodokan Judo and BJJ to children from 3 years old to 15 years old at our 6 Day A Week, new Wyndham Vale training academy ( located at Level 1 / 510 Ballan Rd. Wyndham Vale ), we are delivering these martial arts classes to kids coming from Werribee, Hoppers Crossing, Point Cook, Wyndham Vale, Tarneit and surrounding areas even as far as Bacchus Marsh.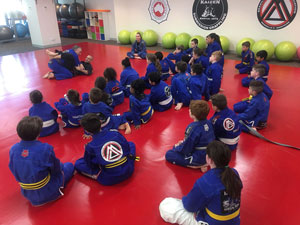 Being a father of 5 kids and young adults I truly understand how hard it is to raise children in today's demanding and changing world.
The concerns parents have for their kids are both serious and worrying including about being bullied by other kids at school, bullied by kids outside of school, bullied online through social media, peer pressure to try drugs, to get involved with alcohol, not to mention with ever present concern regarding sexual predators and so many other potential risks our children may be exposed to at any time.
Our children today have to deal with challenges that we did not have to growing up and these challenges can be simply overwhelming to many of our children. Unfortunately for us as parents, it is almost impossible to completely shield our children from these ever-present negative influences. But, there is something you can do as a parent…. help your children better deal with the many challenges they face growing up and to give you some support we have a way to help you… help them and that is through kids martial arts.
Kaizen Martial Arts Australia delivers a fully integrated children's martial arts program for people from Wyndham Vale, Werribee, Hoppers Crossing, Point Cook, Tarneit and surrounding suburbs such Bacchus Marsh and Gisborne that is focused 
on kids and on children's total development physically, mentally through their personal confidence levels and as a human being.
Many parents across Australia and globally have already discovered that martial arts training and mixed martial arts for kids is one of the most beneficial activities your child can participate in. Kaizen Martial Arts Australia in Wyndham Vale is a place where a child can learn self-control, respect, and get in top physical shape, all in a safe, fun and controlled environment.
 By enrolling your child in our martial arts classes, you as a parent will be helping them learn how to make positive choices in their lives.
KIDS CLASSES AVAILABLE MONDAY THROUGH SATURDAY ( SUNDAYS BY APPOINTMENT ONLY ) -SCHOOL TERMS
To See Our Class Schedule please click here
CALL 1300 308 304 OR USE THE FORM AT THE BOTTOM OF THIS PAGE  TO SCHEDULE YOUR TRIAL LESSONS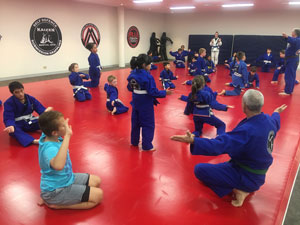 Parents just like you bring their children to become part of the kids martial arts program. And those children reap the rewards that our structured, integrated and technically focused martial art programs provides to them.
 The Kaizen Martial Arts Australia " Kaizen Kids" program, will improve their confidence, increase their focus, and develop and enhance their  self-control.
 We can say this with centainty because over 40 years we have personally witnessed the positive effects that learning self defence ( integrating Shotokan Karate, Kodokan Judo and BJJ ) has provided for children , including our own over the last decade.
 We help and encourage children to develop life-skills that will take them far beyond the internal walls of our martial art school – benefits that will undoubtedly last them a lifetime, benefits that you as their parent will be proud to see them displaying in their lives.
5 CRITICAL REASONS YOUR CHILD NEEDS MARTIAL ARTS


 IN THEIR LIFE TODAY
Martial Arts and Self Defence Training Builds Confidence:
 By learning how to protect themselves, your children will develop confidence in their ability to handle life's challenges. In turn, their improved confidence will give them the courage to say "no" to the many negative influences pushed on them through their school and in their social lives.
Martial Arts and Self Defence Training Increases Focus:
 We will help your child increase their focus by giving them clear goals and showing them how to reach those goals through hard work and being consistent by finishing what they start. (Of course, the kids won't realize they're learning focus because our classes are so much fun! But keep that to yourself)
Martial Arts and Self Defence Training Develops Self-Control: 
Kids learn self-control in the martial arts by learning how important it is to have respect, both for themselves and for others. Martial arts training teaches that in order to get respect, you first have to give it. Once your child learns this important lesson, their self-control will naturally increase.
Martial Arts and Self Defence Training Instills Discipline:
 Discipline is "doing what you must do, when you have to do it, whether you feel like it or not." Discipline is desperately needed in all areas of life at all ages, from primary school to university students to adults like us. The structured and demanding exercises of the Kaizen Kids martial arts training will give your child a vehicle to develop this crucial life skill.
Martial Arts and Self Defence Trainingg Cultivates Courage: Life can be difficult, and is quite a struggle at times and I am sure like me you could testify to that fact. The person who is used to overcoming obstacles and has acquired the habit of facing challenges and beating them is the one who is more likely to succeed in sport and life. This is why it is so important to develop that habit of courage early on – so that later in life a person will more easily face those difficulties with a positive outlook and a self assurance that they can indeed be overcome. Our Kaizen Kids martial arts kids program provides young children with an excellent and safe opportunity to safely learn how to face those fears and blast right through them.
As we hope you can start to you see, the Kaizen Kids martial arts programs teaches so much more than "just learning how to defend yourself against bullies". It is about creating a platform for life success, a positive force that helps guide our children's future to a better place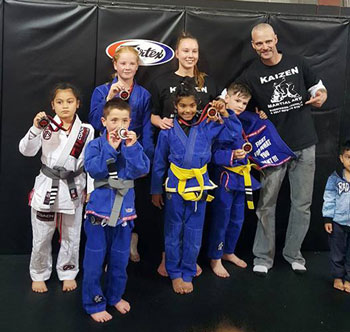 Oh!!!! Did we mention that the kids love "Martial Arts and Self Defence For Kids" because it is so much fun? You can work hard and still make it enjoyable!
Positive Role Models Who Will Encourage Your Child to Succeed
We are not putting ourselves on any pedestal but instead making an observation that kids need strong role models who set a positive example for them to follow. Yet, many parents today find that kids can't look up to professional athletes anymore – so where can they turn for positive examples to follow?
Experience has shown us that kids respond to our martial art teachers in way that no other coach or instructor can match. Because we realize how much our students look up to us, we work hard to set a positive example for them by living the martial arts principles of leadership, integrity, courage, kindness and self-control.
 As you know, children are hard-wired to seek attention and approval. So, when kids see positive behaviors demonstrated by our instructors, they are strongly driven to display those same behaviors in their own actions.
KIDS CLASSES AVAILABLE FOR AGES 3-15 AVAILABLE MONDAY THROUGH SATURDAY ( SUNDAYS BY APPOINTMENT ONLY )
CALL 1300 308 304 OR USE THE FORM AT THE BOTTOM OF THIS PAGE  TO SCHEDULE YOUR WEEK OF TRIAL LESSONS
This "one-two-three knockout punch, judo throw and arm bar submission" of providing inspiring role models, giving your child positive feedback and building confidence works amazingly well to help children improve their behavior. To date, we know of no other extracurricular activity that provides kids with such incredible incentives for displaying good behavior.
Time to give your children the incredible opportunity to be the best person they can be for themselves, for you and for the world that awaits them, martial arts and specifically Kaizen Martial Arts with its integrated system of Karate, Judo and BJJ can help at least to some degree in shaping a better life for you and your children and we are very proud and honored to be able to do that.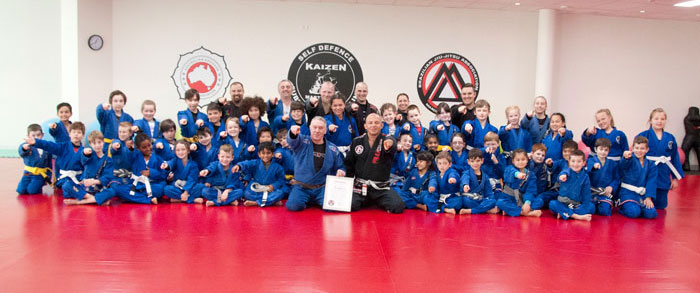 Call To Book Your Trial Lessons On: 1300 308 304
Level 1 / 510 Ballan Rd, Wyndham Vale, Victoria 3024
Enter Through Main Front Doors, Turn Left Once Inside to Elevator and Goto Level 1
<h/4>

USE THIS FORM TO BOOK YOUR TRIAL LESSONS