Kaizen Ne-waza Kids Win Gold At Renenagde Kids BJJ Competition
Congratulations to both Caleb and Ameeta on their outstanding wins at the Renegade Kids Round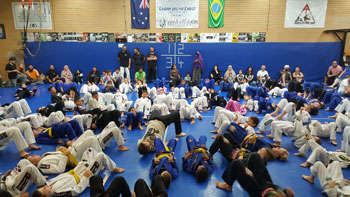 Robin Comp held in Kensington at Renegade MMA on March 5th, 2016.
Caleb and Ameeta won all their fights and progressed to the gold medal fights both winning and bringing home yet another set of Gold medals, this backs up from their win at the Metamorphic Kids Comp towards the end of 2015.
The competition at Renegade MMA was a sell out with over 100 kids entering and as usual the comp was well run by Jamie Murray and his team with the first and foremost though being for the safety of the kids competing and it was great to see the level of diligence they had during the event.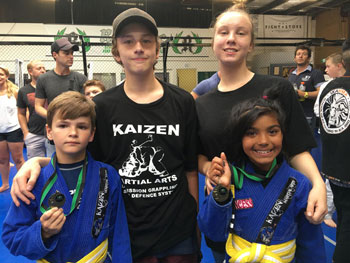 They showed strong ground work and submission skills, also big congratulations to their coaches
Keanu and Briarna who did some one on ones a few days before the comp.
We can see lots of mistakes that they would normally not make and this shows us that there is still lots and lots of room for improvement and in upcoming training we will pinpoint these mistakes and correct them for next time.
We are a Self Defence focused club and we do not have competition classes so to compete against clubs that focus on comp and come away with 1st place speaks volumes to the skill and commitment of our kids.
Here is a video of some of the fights.