The Kaizen Martial Arts Australia Wyndham Vale Dojo Opens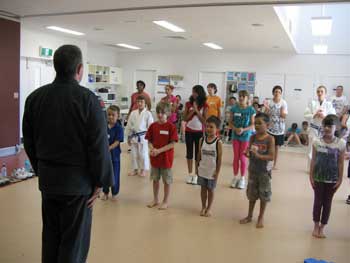 The first Shotokan karate class of "Kaizen Kids" got underway at the Wyndham Vale dojo of Kaizen Martial Arts Australia today at 5.00pm and the word had got out fast as we had 22 excited kids on the training floor and they did an incredible job for their first martial arts training session. The very fist thing the kids learned was what Kaizen Martial Arts is about and why the Japanese word 'Kaizen'. Kaizen literally means consistent and never ending improvement and that is what we strive for… the consistent and never ending improvement in martial arts, the clear intention of doing each and every lesson with the lazer like focus so that each and every time we train, we improve just a little bit and then a little bit more and a little bit more.
Each of the children did a solid warm up and then went on to learn basic body position, balance and stances, from here the kids learned the fundamental structure of creating a solid fist and then to the movement of a real karate punch, each of the children gave their all and some showed real determination and poise considering it was their first time.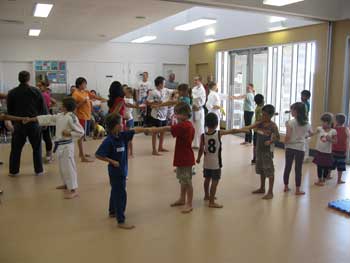 The next component they learned was an overhead basic block and again the kids showed how quick their reflexes are, this was a test for some of the kids attention span and overall they all stepped up to the mark, a great job done by all who attended and I also want to give a huge thank you to all those parents that took the time to bring their kids to the class, I look forward to seeing you all this Thursday for class number two.
If you would like at inquire about martial arts classes for your children then please contact us through our CONTACT PAGE, leave us a message and book your free trial classes.