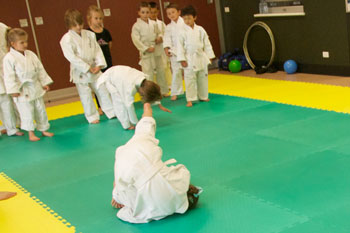 The first class of the Thursday night was the kids judo 6 to 10 years old and again a great class where the kids were doing the their judo throws and boy did the kids have a ball, after a fun based warmup the kids went through a process of stretching to get ready for the their session.
In the first segment we focused on the basics of Judo front rolls making sure that the foot positions, hand placements and chin position were correct, many of the children are really getting the hang of the front rolls and performing them to a solid standard and finishing with really strong break fall arm position on the mat. It was also fantastic to see the level of confidence rising in the kids while doing the front rolls and particular kids have the front rolls down so cleanly that next week they will be starting to alternate from left to right hand sides.
The next phase in the nights training was into break fall training covering the back break fall then the left and right side break falls.The kids were greatly improved even from last week with very few corrections in relation to their arm positions, a couple of children still had a tendency to use the occasional elbow to slow their fall but all in all they kids are really picking up the standard of their Judo.
It is so critical that we set a high standard with the kids right from this first age group and I am sure that at some point a few of the parents may think that I am a bit tough with the kids but I know that was we move on and parents get so see what they learn and how competent their children are they will fully understand why I do what i do when training the kids.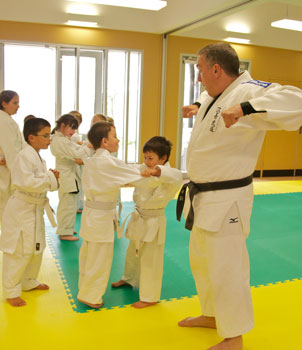 The next for the training session was to move the children into practice for the Judo throw entries, this really showed the kids how important the correct entry is to any and all Judo throws, the kids formed 3 lines and worked with their nominated partner to perform sets of correctly focused entries, overall the young group of kids did very well and we will continue these drills as well as add further drills as the weeks and months ahead come along.
Next session the youngest group of kids will be moving into their very first throw for the juniors being their Osoto gari and wow did these kids will enjoy throwing each other around  and I guarantee everywhere you look there was smiles from ear to ear.
So much ahead of them, so many great things to learn and have fun with.. training is so cool!