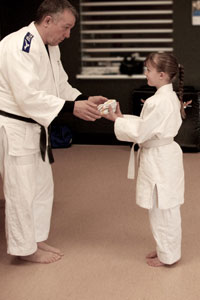 Our first week into term three was filled with much excitement and anticipation as everyone was keen to know the results of their Shotokan Karate, Kodokan Judo and BJJ grading examinations .
All seven candidates from our Kaizen Martial Arts Wyndham Vale 6-10 age group class were successful inachieving their 10th kyu.  Thirteen is usually considered unlucky for some, but not for the thirteen contenders from our  11-16 class who all passed 10th kyu with flying colours.  Three students from this group of thirteen  double graded and were promoted to 9th kyu.  What an outstanding  effort on the part of these determined and committed martial artists who all adopted the attitude "IF IT'S TO BE, IT'S UP TO ME!".  There were more celebrations to be had as seven of our adults, who all performed did extremely well during their examinations, reached their goal of 10th rank too.
Sensei presented all the newly elevated participants with their Kaizen Martial Arts Australia registered certificate of rank and new belt after which began the ceremony of changing their belt.  This is a special ritual which signifies the looking back and acknowledging the beginning of their training, remembering where they started.  Then celebrating the present, where they are right now and noticing how far they have come to this point.  And looking foward to where they are going and making the commitment to themselves and their training for ongoing and continuous self improvement.  Sensei also reminded each student of the new level of responsibility that comes with the rank they now carry and as members of Kaizen Martial Arts Australia they are role models not only within the club but also in the community too.  Sensei spent time with each student to give feedback on their Karate, Judo and BJJ results which is so important to the students for their ongoing improvement.
It was great to have parents and family there to witness with pride the significance of what each of our students has achieved.  And it must also be acknowledged that if it were not for the commitment , support and encouragement of the parents and family of those who train not only with us but at every sports club and organised activity there wouldn't be gradings, sports presentations and special days.  So thank you to all those parents, family, friends and supporters for your commitment to your children, grandchildren, mums and dads who train.