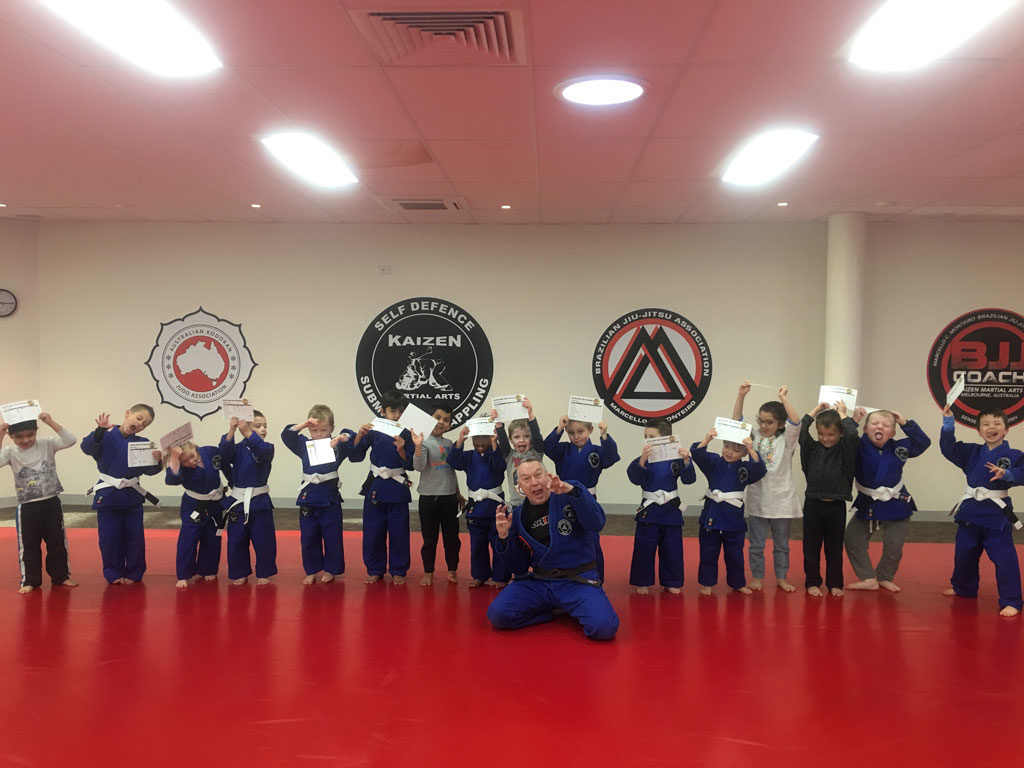 The 3 to 5 year old classes on Saturday morning  are a huge success and have been since we started and we have expanded to the last available times lot and we are nearly full yet again. The picture above is last Saturdays 9.00am Group 1 Kindy Kids ( 3 to 5 year old ) less 3 kids that were away. Group 2 follows at 10.00am these kids know how to have fun!
These classes teach these young kids skills that go way beyond the 4 walls of the academy, they give these young kids skills to use for a lifetime and we make it fun for them and also the parent who are in integral part of this training with the kids.
Just look at what a few of the parents have to say:
Jason Partridge Both my kids (5 & 3yrs) absolutely love the academy and even train at home on the hols thanks to the online videos that sensei Garry has made . Recommend to everyone, five star club
Kirstie Coulter You certainly are part of the family when you join Kaizen Martial arts. Every person is equal and valued. My 5yo son loves Kindy class. Can't wait to see his progress when he joins the bigger kids 6 & over! I'd definitely recommend trying them out!
Shelley Ferre Seriously an awesome academy! My daughter has been going since she turned 3 and absolutely loves going and loves the instructors. They work with the children and it's so obvious with the confidence she has gained since starting! A family academy who make the whole family feel welcome and part of journey… I love that any question is welcomed and encouraged! Recommend 100%
Jacquie Lahiff This place is amazing! My son is currently in the kindy program and I have to say the coaches are fantastic with the kids. They are all having fun while learning valuable life skills.
Rachael Hall I would highly recommend this club to anyone with small children. Sensei Garry makes the session so much fun for the kids, and parents too. Over the last 6 months I have seen my son get better at listening and following instructions, waiting for his turn as well as having his confidence grow. Now he wakes me up on a Saturday morning eager to get to class.
To book your trial just call 1300 308 034 or via our website contact us page